Early Warning Europe partners celebrate achievements and look to the future
19 November 2019
The Final Conference of the Early Warning Europe project was held at the Residence Palace in Brussels on 14 November 2019 entitled 'Early Warning Europe: looking back, moving forward'.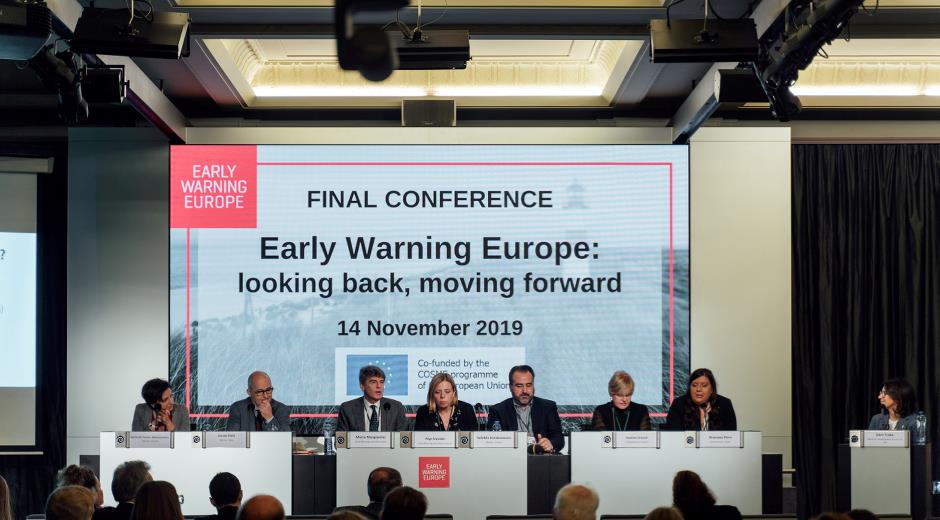 Project closing conference attracted 100 participants including representatives of the European Commission, national governments of EU Member States, various organisations concerned with business and entrepreneurship, and partners who have been involved in the development and implementation of Early Warning services in all of the participating countries.
The Conference was opened by Arnaldo Abruzzini, CEO of EUROCHAMBRES, who highlighted the relevance of Early Warning services in the context of the recently-adopted EU Directive on restructuring and insolvency (2019/1023) and that under Article 3 of this Directive, all of the EU Member States are expected to set up Early Warning schemes, including services that provide advice and support to companies facing financial difficulties.
Simona Constantin from the Cabinet of Commissioner Vera Jourova (responsible for Justice, Consumers and Gender Equality) said that the European Commission was very interested in the achievements and results of the Early Warning Europe project. The knowledge and best practices that have been developed by the project partners will be especially valuable during the transposition and implementation of the new EU Directive on restructuring and insolvency. The Commission will have to work closely with the governments of the EU Member States and also "keep in touch with the experts on the ground".
Petra Jurina from the Permanent Representation of Croatia to the EU spoke about the insolvency act that has recently been adopted by the Croatian Parliament, which includes a procedure for preventive restructuring of companies facing difficulties. During its Presidency of the EU Council (in the first half of 2020), the Croatian government will cooperate closely with the European Commission in order to support the transposition of the new EU Directive in all of the Member States.
Further, the coordinator of the project, Morten Møller, presented an overview of the project's aims, actions and achievements. He explained that the main purpose of the project was to spread best practices regarding the provision of advice and support services to businesses facing financial and other difficulties. These services should be confidential and free of charge, providing high-quality, impartial advice to company owners. The idea is to assist companies before they end up in the legal system, thereby avoiding unnecessary costs.
Mentors play a key role in the delivery of Early Warning services, and the project partners have succeeded in setting up mentoring programmes in all of the pilot countries: Greece, Italy, Poland and Spain. When working with unpaid mentors, it is important to provide the right framework for recruiting, training, supporting and motivating them, and this is a key lesson of the project.
During the 3-year project, the EWE partners succeeded in providing support to more than 3,300 companies in the four countries, and they have also worked to promote the Early Warning approach throughout Europe. Thanks to these efforts, Early Warning schemes are being established in another six countries (Croatia, Finland, Hungary, Lithuania, Luxembourg and Slovenia) and partner organisations from these countries have also been involved in project activities at European level.
Morten Møller also spoke about what will come next – after the project has formally ended. He announced that the project partners had decided to set up a permanent network of organisations providing Early Warning services in EU countries. More research needs to be done in order to identify and analyse barriers in national legislation that prevent the implementation of Early Warning services in certain countries. Therefore, the EWE partners are seeking to set up a research fellowship that would enable such research to be carried out, taking a cross-sectoral approach that brings together several academic disciplines.
The first panel discussion focused on the practical aspects of the Early Warning approach: 'how does it work and what are the benefits for business and the economy?'. The session was moderated by Eleni Tzoka-Stecka of Fundacja Firmy Rodzinne (Family Businesses Foundation), who spoke about her experience of developing a mentoring scheme in Poland. "Establishing trust is very important," she said, in order to overcome the stigma associated with 'failure' and help give entrepreneurs the confidence to be ready for change.
During this session, two Early Warning consultants spoke about the challenges involved in the screening and diagnosis of companies. Marco Mangiantini from Italy pointed out that financial problems are often the symptoms of deeper problems in the company, which could be linked to generational transition (in a family business) or simply a failure to adapt to changes in the market. Popi Vasilaki from Greece agreed that problems in small companies were often caused by differences between family members, and underlined that the willingness of entrepreneurs to follow advice is a key factor for success.
Three mentors also reflected on their experiences during the EWE project. Agnieszka Simon Adamczewska, a business consultant from Poland, said that getting involved in the project was her chance to help people and companies in trouble, and mentoring can be a very rewarding experience. "You should listen not only to what they say, but try to take the perspective of a flying bird in order to get a complete picture of the company and the problems it is facing".
Sofoklis Karakovounis, from Greece, spoke about his approach to mentoring: "instead of focusing on problems, try to identify solutions and look for opportunities". "The mentee has to be the owner of the solutions," he said. "Our role as mentors is to help entrepreneurs identify and unlock potential."
David Kidd, a business coach based in Italy said: "What appealed to me about EWE was the mission behind the project. I liked the idea of getting involved with SMEs who were at a crossroads". He underlined the value of networking among EWE mentors throughout Europe, and the need for this networking to continue. "The EWE community is a very powerful community," he said.
The conference also heard personal testimonies from two entrepreneurs who had received advice and support through the EWE project. Joanna Snioch from Poland had asked for help after one of the businesses that she co-owns with her brother ran into serious problems. In addition to running out of money, her relationship with her brother had also deteriorated. Fortunately, they were able to access advice from a mentor who was also an expert in mediation. "Fear of failure can prevent people making an objective assessment of the situation," she said. "Failure can happen to everyone. Asking for help is to be encouraged and applauded."
Aranzazu Dura from Spain told the Conference that she has only been running her company for 12 months, and before receiving support through the EWE project she had experienced the feeling of being alone. She was very grateful for the help that had been provided to her. "Now, thanks to EWE, I feel supported," she said.
The second panel discussion, moderated by Veronique Willems, Secretary General of SMEunited, focused on 'the future of Early Warning services in the context of the new EU Directive on restructuring and insolvency' and. The panel included two representatives from the European Commission (DG GROW – the Directorate-General for Internal Market, Industry, Entrepreneurship and SMEs; and DG JUST – the Directorate-General for Justice and Consumers), alongside representatives of other stakeholders and 2 Member States that started to establish early warning services with the support of the EWE project.
Birgit Weidel, Head of the Unit in DG GROW, underlined that the European Commission is working in many ways to support SMEs, notably in the framework of the Action Plan adopted by the EU Council in 2008 "The Small Business Act for Europe". Regarding the Early Warning Europe project, Ms Weidel declared: "We are very happy with the results of the project", and highlighted the immense expertise that had been drawn together. "It's not just about transposing legislation, it's also about creating structures," said Ms Weidel. "The Early Warning project is excellent example of what can be done by working in a more cooperative way. It will really promote an entrepreneurial spirit and help our companies to stay in Europe." She emphasised that the Commission wants to promote an approach towards companies facing difficulties "that is more preventive and cooperative, rather than punitive".
Ondrej Vondracek, a Legislative Officer in DG JUST, said that the Commission has to support the Member States and ensure that the EU Directive on restructuring and insolvency is transposed into national legislation. "We will organize transposition seminars, including a part on Early Warning tools," said Mr Vondracek. "We will continue to explain to Member States what they have to do, but we are not going to use a top-down approach. We want to be cooperative and help them." In this context, the Commission will draw on the experiences of countries that have already implemented successful Early Warning schemes. "Preventing insolvency can bring about significant financial savings for public authorities," he continued. It will be necessary to raise awareness at the level of national Justice Ministries in Member States, because "they do not always have experience and understanding of insolvency prevention policies".
Piya Mukherjee, an experienced lawyer and President of INSOL Europe, the European organisation of professionals specialising in insolvency, bankruptcy and business restructuring, highlighted that "sometimes companies wait until it's too late to ask for help, so we are in favour of anything that encourages companies to ask for help at an early stage." She underlined that Early Warning services should provide entrepreneurs with advice that is impartial, free of cost, confidential and relevant. "Confidentiality is important in order to protect the reputation of a company", she said. "Owners don't want their customers and suppliers to know that their business is in difficulty."
Salvador Marin, President of the European Federation of Accountants and Auditors for SMEs, agreed that there is a real need to make sure that impartial advice is available to businesses, free of charge, in all EU countries. Accountants and auditors are in a good position to identify companies that could benefit from Early Warning services, but they also have to respect client confidentiality.
Mira-Maria Kontkanen from the Federation of Finnish Enterprises said that the EWE project had facilitated the establishment of a national framework that brings all the different operators together. "We want to make it easier for entrepreneurs to find help, and ensure that there is an equal level of service provision in all regions of the country," she said. "This is why we need to have a stable and permanent structure at national level."
Mislav Marcius from the Croatian Ministry of Economy, Entrepreneurship and Crafts explained that Croatia was motivated to join EWE project as it met the principles of the Small Business Act for Europe. HE stressed that currently they are focusing raising awareness and promoting the advice services, so entrepreneurs know where they can ask for help.
The plenary session was wrapped up by emphasising the need to change attitudes and spread the message among entrepreneurs that it is fine to ask for help. Furthermore, it is also necessary to change the approach of public authorities and other stakeholders, in terms of how they deal with companies facing difficulties.
Article 3 of the EU Directive on restructuring and insolvency states that Member States shall put in place early warning tools, but it was stressed that these tools are not sufficient. Entrepreneurs need support and advice services. The financing of such services should be seen by national governments as an investment in the economy, recognising that preventing insolvency is protecting jobs.
During the afternoon session, four workshops were organized which allowed participants to share experiences and lessons learnt during the implementation of early warning services in the four pilot countries. These workshops focused on: 'Communication and awareness-raising of early warning services'; 'Creating and maintaining a network of volunteer mentors'; 'Cooperation models among organizations in Early Warning systems'; and 'Identification, initial contact and screening of companies in distress'.
As announced during the Conference, the COSME-funded project will come to an end by the end of November 2019, but the organisations will continue to be involved in a permanent network and will be able to support other Member States in setting up early warning services in the next few years.